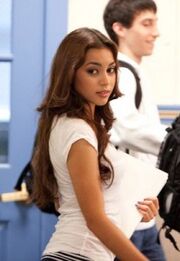 Nicolasa Cruz, who goes by Nikki (sometimes Nik), is married to Luis Fuentes. She lived with her mother, father, and younger brother, Ben on the north side of Fairfield. Her father is the doctor who performed surgery on Alex when he was shot in Perfect Chemistry. Before Nikki can tell her boyfriend Marco (from the south side) that she is pregnant, he heartlessly dumps her to join the Latino Blood, a gang. After that, when her father is invited to Alex's wedding, she gets upset with Luis for flirting with her, and she knees him in his crotch. Luis reminds her of Marco so she hides his clothes when he is in the ocean with a girl. When she goes home she starts bleeding and her stomach starts hurting badly. Her parents rush her to the hosptial, where she finds out she had an ectopic pregnancy meaning her falliopian tube ruptured causing her to need emergency surgery. She almost died and her baby couldn't be saved.
Personality
Edit
After her harsh break-up with Marco and the loss of their child, Nikki is reluctant to get close to any guy. But when she spots Luis, she feels something. She knows hes going to hurt her so she tries to resist his charm which is really hard to do. Nikki was a "traitor" because she grew up on the north side like other rich kids and she did not own up to the fact she's Mexican. Adding on to the fact that she can hardly speak her native language, she's considered a sellout. Nikki later opens up her heart and she falls hard for Luis and supports him in every endeavor. According to Luis she has "angel with an edge" aura and an attitude a mile long.
Appearance
Edit
Nikki has long wavy brown hair and according to Luis has exotic eyes and a really nice body.
Luis Fuentes = husband
Enrique Fuentes = son, with Luis
Juan Fuentes = son, with Luis
Luis Jr. (Junior) = son, with Luis
Unnamed child = miscarriage, with Marco
Dr. Raul Cruz = father
Maria Cruz = mother
Ben Cruz = younger brother
Lorena Fuentes = mother-in-law
Hector Martinez (deceased) = father-in-law
Mr. Fuentes (deceased) = legal father-in-law
Alex Fuentes = brother-in-law
Brittany Ellis = sister-in-law, via Alex
Paco Fuentes = Alex and Brittany's son, Nikki's nephew
Unborn/Unnamed niece or nephew = Alex and Brittany's child
Carlos Fuentes = brother-in-law
Kiara Westford = sister-in-law, via Carlos
Cecilia Fuentes = Carlos and Kiara's daughter, Nikki's niece
2 unnamed nieces = Carlos and Kiara's daughters
Cesar Reyes = stepfather-in-law
Relationships
Edit
Luis Fuentes = husband, best friend
Kendall = best friend
Derek = friend, former dislike
Hunter McBride = friend
Mariana Castillo = possible dislike/enemy
Marco Delgado = ex-boyfriend, enemy
Ad blocker interference detected!
Wikia is a free-to-use site that makes money from advertising. We have a modified experience for viewers using ad blockers

Wikia is not accessible if you've made further modifications. Remove the custom ad blocker rule(s) and the page will load as expected.